Lot 7 –
New Zealand Exhibition Medal, 1865, designed by Joseph Wyon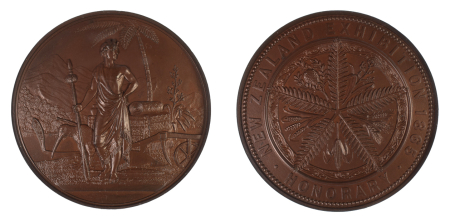 Lot 7 –
New Zealand Exhibition Medal, 1865, designed by Joseph Wyon
Asia & Australasia » New Zealand
Estimate
1'500 – 2'500 CHF
Auction date
Sat 17 Oct 2020 at 13:30 (Europe/Zurich)
Description:
The New Zealand Exhibition Medal, 1865 (64mm), was designed by Joseph Wyon, the Queen's medallist; the dies were the work of a famous engraver, Joseph Moore; and the medal was struck at the Royal Mint. One example was struck in gold, seventy-five in silver, and eighty-seven in bronze.
The gold medal was given to the Secretary of the Exhibition, and the others to exhibitors. The Commissioners awarded themselves silver medals. As the NZ National Museum states: "This New Zealand Exhibition Medal is struck in bronze and is not inscribed with the name of the recipient. It is probably a sample sent to James Hector, who was one of the two Exhibition Commissioners who recommended that the medal be designed and struck in England".
Not only was the design praised at the time but the New Zealand Exhibition Medal, 1865, is regarded nowadays as one of the finest medals ever issued in New Zealand.
Catalogue reference:
NGC MS 66 BN