Lot 134 – Asia & Australasia » India » British India
India (British) 1901 -1910 Cu 2 Annas Token "Duncan, Stratton & Co. Bombay"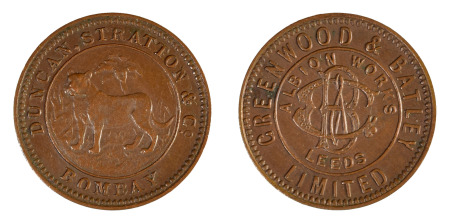 India 1901-1910 copper 2 Annas token with Lion on obverse, issued by Duncan, Stratton & Co. Bombay, suppliers of Minting Machinery. (For: D225) Greenwood & Batley Ltd. Albion Works Leeds, manufacturers of the machinery. very scarce and sort item.
Estimate
80 – 100 CHF
Auction date
Fri 15 Nov 2019 at 10:00:00 (Europe/Zurich)
Time left

0d 13h 8m 11s


before pre-bidding ends

Please log in once in order to place bids or buy lots.