Lot 226 – Africa & Middle East » Egypt
Egypt 1798 White Metal Medallion "Nelson, Battle of the Nile" by T.Wyon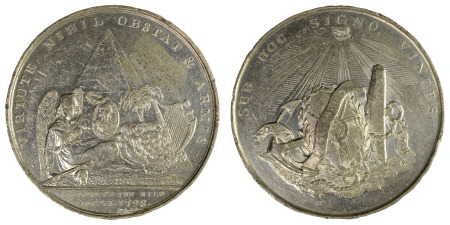 Egypt 1798 White Metal Medallion for Nelsons Victory at The Battle of the Nile designed by T.Wyon (Eimer 892, BHM 450) 38mm diameter and extremely fine to AU for the issue with some light edge bumps and a bruise at 6 o'clock. RARE and sort campaign medal in nice grade, some light pit marks to right of Pyramid on obverse.
Estimate
80 – 120 CHF
Auction date
Fri 15 Nov 2019 at 11:30:00 (Europe/Zurich)
Current bid
80.00 CHF
Time left

0d 15h 16m 27s


before pre-bidding ends

Please log in once in order to place bids or buy lots.