Lot 40 –
Austria (undated) 1914-1918A Ag Medal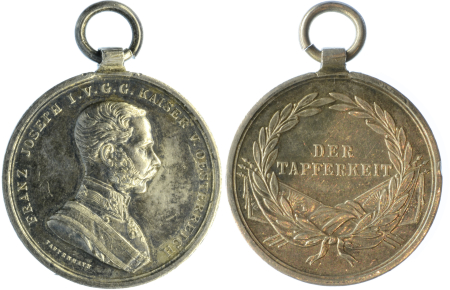 Lot 40 –
Austria (undated) 1914-1918A Ag Medal
Europe » Austria
Auction date
Thu 29 Oct 2015 at 13:00 (UTC)
Austria (undated) 1914-1918A Ag Medal Franz Joseph I bust obverse with legend, and "Der Ttapferkeit" in Wreath reverse. 29mm diameter, weight= 18.4 grammes, issued for Bravery during WWI. Complete with original Loop and ring at 12 o'clock for the ribbon. No ribbon included.
Please note that we are still working on adding images for the lots. If the lot you are interested in does not have images available yet, we invite you to check again in a few days.
If you still cannot find the images you are looking for in a few days, please send us a message. Important: don't forget to mention the lot number(s).
Thank you for your understanding.